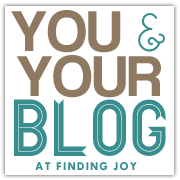 So a sweet Co-Hip Homeschool Moms team member, Rachael, from Finding Joy (a beautiful, lovely, inspiring blog, by the way), is hosting a fun You & Your Blog Meme.
I love the idea behind this.  As bloggers we put so much of our time and selves into our blogs.  Our blogs can be a beautiful reflection of who we are, as well as a great place to store our memories, and encourage others.  We take tons of photos of our lives, to document it all here on our blogs.  However, when do we take a photo of ourselves doing something we love, something that is a huge part of our lives.  For me, blogging is one of those things. 
In Rachael's words: "My challenge to you? Take a picture of you with your blog. Not for fame, or glory, but for memories. One day you'll be able to look back at that picture and see you by those words that you wrote. "
Be sure to head on over there and join in yourself!  
So here it is….me & my blog: